Dental Implant Bridge Treatment Procedure at Delhi Dental Implant Center New Delhi India.
Just as with one missing tooth, several missing teeth can be easily treated with dental implants. Implant supported teeth bridge are permanently fixed in the mouth, unlike removable appliances like partial or a full dentures — They don't slip or click, and there is no worry about them moving or falling out while speaking, eating, or participating in activities. And because dental implants are placed directly into the bone, they help preserve the jawbone and prevent bone deterioration. Dental implants supported dental bridges look, feel, and function like natural teeth, and can last a lifetime.
At Delhi Dental Center we welcome people looking for Dental Implant Supported Porcelain Ceramic or Zirconia metal free Dental Bridge work, for there Missing teeth replacement option.
We offer Immediate Loading Immediate Function Implant systems to our patients so that they can have an Implant Bridge within 24 to 36 hrs time………..
Different types of Implant Bridges we offer are –
Porcelain Fused to Metal.
All Ceramic – Full Porcelain.
Zirconia Metal free Dental Bridges.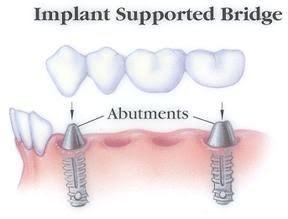 At Delhi Dental Center, Qualified patients receive their implants and beautiful new teeth all in the same day – also called as same day implant. We can do this because we have all the specialists at one location, we use patients 3D C.T. Scan for treatment planning, we have a dental lab to manufacture and fit your new teeth, and we use the latest in Immediate Function implant technique and protocols in India.
All our implant surgeries are done under strict sterilization and sedation to minimize any pain or discomfort.
All our dental implants are CE and ADA certified.
Benefits of Dental Implant Bridge.
Strong & stable (tightly fixed) solution for your missing teeth space.
A secure solution that lets you eat what you want.
The only fixed alternative in situation where gaps at the rear end or where there are no natural teeth available for fixed bridge abutment support.
Gives better strength and stability than dentures.
Preserves your facial appearance and prevents dental bone loss.
Gives a nice natural smile.
Offers a long-lasting solution, often for life.
Renewed confidence and improved quality of life as well.
No more caries for dental implant.
Save adjacent teeth. Prevents bone loss of existing teeth and its drifting into surrounding space of the missing teeth.
Correct an altered bite.
For More Information Go To :
Related Links :